 Welcome to Maggie & Kaye!
I am so glad you're here!
Maggie & Kaye is a Canadian online home boutique dedicated to bringing you beautiful, quality products for your bed, bath and home. Your home is an extension of yourself, let it be a place of comfort, beauty and an expression of who you are. 
The Home Expression Blog
The Best Sheets for Summer
The warmer months are coming and so are the questions about how to keep cool on those hot summer nights. 
If you're like me, you love being cozy in bed with sheets and duvet no matter the temperature but when those temperatures creep up I find myself kicking off the covers and playing the hot and cold game all night. 
Choosing sheets that help regulate your temperature can be a game-changer when it comes to a good nights sleep and by paying attention to quality materials that lend themselves to breathability - you can be sleeping better than ever. 
So what do we recommend? 
Read more...
Let's Talk Towels
The first thing you may want to consider when purchasing your towels is the weight. All towels will have a number associated with them that refers to grams per square meter. Beach towels, and gym bag towels have a lower GSM number while the towels you probably want for your bathroom will have a higher number maligning them more plush and thicker.
The nice thing about our towels is that the GSM number remains fairly low due to the fact that they are zero twist. So that though they are plush and absorbent- they also will not weigh down your towel rack.
Read More...
Pillow Talk
Deciding which pillow is going to help you get the best night's sleep can feel a tad overwhelming but there is an easy way to break it down. 
First, Take note of how you sleep. On your back? On your side? On your tummy? If it changes through out the night- Try to notice where you spend the most time. 
The pillow can be the key to a good night's sleep so we make a point of carrying quality pillows that can help you achieve just that. 
Read More...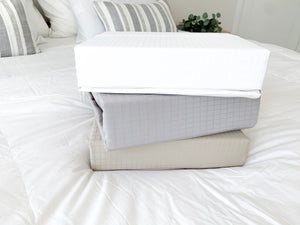 Understanding Thread Count
When it comes to choosing sheets, it can be overwhelming to know what to look for. 
Percale, Egyptian cotton, Cotton satin, Deep pocket, hypoalergenic, and thread count!
With so many terms being thrown around how do you know what quality of item your buying, but more importantly - What do YOU want in a sheet...Maybe you don't know. 
The truth is- there is no right answer. It's a very personal choice. 
Read More..
Shop Beginnings
I would attempt to help by practicing curling the pink ribbon with the scissors with much guidance from my grandma. I would watch her gracefully tie the ribbon around the handles of the customer's bag and hand it over my head to them. Me with wide eyes and a sense of accomplishment being her little helper in the store.
Read more...
Valentine's Day Gift Guide
A gift guide to inspire some self-love this Valentine's Day!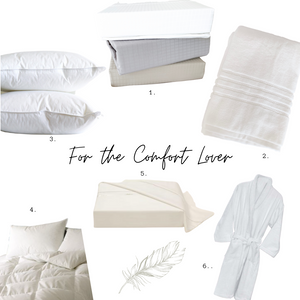 The Ultimate Home Lover Gift Guide
The Ultimate Gift Guide for te person on your list who loves to express themselves through their home! From the neutral or colour lover- to the one who loves comfort this gift guide will show you our favourite items of the season!